Eating-time is the most important moment of the day. Especially when you spend it with the people you love. Pick the right dining table for your special moment.
Alexander Dining Table made by Acacia-wood.com from Castlery.com
Food can bring people together in a way nothing else could. That's why you put a lot of effort in your kitchen or dining area. This sacred room in your home will be the place where you not only share your food but also tears and cheers, comfortably. Like they said, people that eat together stay forever, because stories are shared over meals. The vibe your dining room brings out will create a memorable experience and the star of the room is obviously your dining table.
The evolution of the dining table itself changes from time to time into a more efficient and enjoyable place to eat. The popularity and term of dining table arose in the 16th century, the word derived from the Latin word, tabula, with the definition of plank, board or flat piece. In the Middle Ages era, dining room tables were made purposely long and large to fit the whole castle of people. The dining table then changes into a smaller shape because the nobility prefer a more intimate gathering. To summarize, dining table evolution changed based on the needs of people at that time and also the trends in that era.
All the historical information aside, nowadays a dining table is a necessity in any home. Sometimes people don't even use it as an only place to eat. There are so many activities these days spent in the dining table room without the presence of food, such as studying, watching some Netflix, reading, or daydreaming. Isn't it a big deal to have the right dining table where you are going to spend a lot of time at? Here comes your savior to guide you pick the perfect dining table for your home.
1. Why is the Dining Table Important?
Before we dig deep about the perfect dining table, you should know why dining tables are still relevant these days? What's the purpose? Think about it, when it comes to a dream home, you go to the kitchen or dining room and there's no dining table then it looks and feels like something is missing. Even, a dining table is not only needed in a home setting, every living space from time to time requires a dining table as an appropriate and homey setting to eat. In an apartment, dormitory, even in an office, there must be a dining table provided. Different kinds of dining tables can be customized by acacia-wood.com based on your needs and for any kind of space setting.
Source: labelleassiete.co.uk
A study on dining habits by Furniture Village showed 58% of Brits still feel it's important for family and friends to eat around a dining table. Eating on a dining table affected some part of their life like family relationship, child development, mental health, and physical health. Everyone in every part of the world can actually relate with this study. Especially on the family relationship and child development part, here's why:
Family Relationships can get affected in a positive way by eating together at the dining table. The principle would be a family that eats together, stays forever. As said before, stories are shared over meals and we know the fact that human beings are social creatures. Eating together on a daily basis will help you to have bonding time with your family, friends or partner. You can use this occasion to check in with each other. The importance of eating time with your family should be the main reason for you to put some effort in choosing the right dining table. To avoid family members getting left out, pick the dining table that can accomodate your whole family members. In acacia-wood.com every design or style can be customized as you like or desire. You can adjust the size of the dining table in accordance with the number of your family members so it will fit perfectly.
Child Development can also evolve in meal time with a family where the child will learn vital communication patterns. That's how much a dining experience can affect aspects of your life. As the child grows with these traditions to eat together, you might consider choosing a dining table with long durability. It'll be a troublesome matter to change your dining table once in a while, so choosing the right material for your dining table plays a bigger factor. Wood usually and mostly is the dining table material with the best durability with very little maintenance, especially hardwoods. This material can last for generations so all the memories made on the dining table can stay for a long time. In acacia-wood.com, all the materials are chosen from the best quality of solid wood to present a great durability.
As we know there's a major benefit from having meal time at the dining table, that's why the dining table will always be the heart of the home or any place that requires eating activity. Choose yours right and carefully.
2. What Kind of Dining Table is Perfect for You?
Source: vinotiliving.com
Round & Oval Dining Table is the excellent choice for a smaller space because it easily matches and fits any shape of a room. This shape of the dining table gives off a welcoming vibe where everyone sitting around it can have conversation while looking at each of everyone face to face, effortlessly. The right round or oval dining table shape for your room can make aesthetic looks for your home. A round or oval dining table is also safer because there are no sharp edges around it.
2 seats: 32" diameters
4 seats: 42" – 48" diameters
6-8 seats: 60" – 72" diameters
8-10 seats: 72" – 88" diameters
Locknest Table made by acacia-wood.com
Rectangle Dining Table is mostly preferred than the other shape. Ideal for most dining rooms because the room is mostly in rectangular shape already. This shape of the dining table works really well in an open space kind of room and can be used as a divider. If you regularly host large gatherings at your home then this dining table's shape is the right one for you. It can accommodate several dining chairs because of its narrow stature. But of course, you need to consider a bigger space for this kind of dining table's shape for additional chairs to take up. Bench can be put into consideration to replace the dining chair to allow more room or space.
Square Dining Table is perfect when you have a square room, the square dining table would complement the room really well. Flawless choice for intimate meal time as it's only and usually can afford a small amount of people. Most square dining tables can fit four people but it is still possible to leave extra space for additional people. Measurements of square or rectangle table are like this in general:
2 seats: 40" length & width
4-6 seats: 48" width – 60" length
6-8 seats: 60" width – 72' length
8-10 seats: 80" width – 96" length
10-12 seats: 120" length
Source: thespruce.com
Farmhouse Dining Table style brings out the expensive, warm and earth-tone looks. This style of dining table is made from solid wood that makes the table very sturdy. It gives off an old country vibe when you step into the room. This kind of style is also timeless with an extra cozy and welcoming feel coming out of it.
Contemporary Dining Table style is actually whatever design that is popular at the present time. There's no certain period of time that could describe what contemporary dining table style is, because this style is always evolving based on the trends now. For now, the contemporary dining table style is more into simplicity and minimalism. Even though the look is simple and minimal, contemporary dining table style can make your dining room look stylish.
Modern Dining Table style specifically from a certain period of time which is early to mid-twentieth century. Modern design emphasizes crisp lines, warm neutrals and balance. Modern dining table style designed during an era when American families were moving into more urban areas. That's why this dining table style is very compatible with smaller spaces. It creates a timeless yet aesthetic-fresh kind of look in your dining room.
Traditional Dining Table style giving off elegant and versatile aura usually made of sturdy wood with darker finish with ornamentation or carved feature as the detail of the table design. Never go out of style with some traditional dining table style. Traditional dining table style mostly came in large pieces and can fit a lot of people.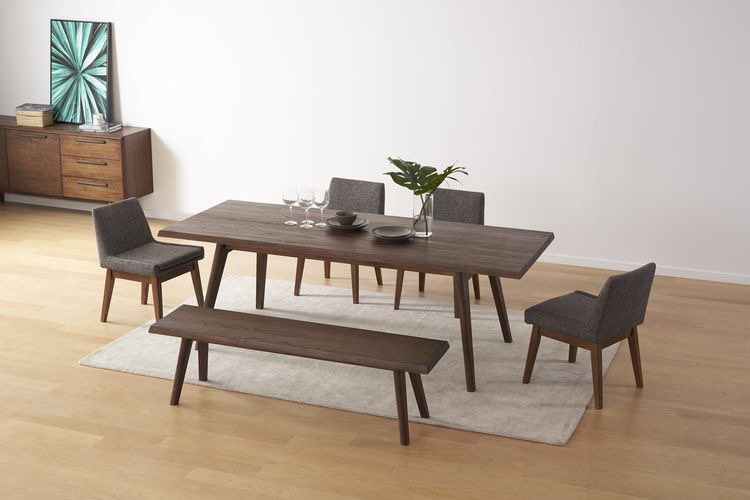 Vick Dining Table made by Acacia-wood.com from Castlery.com
Wood is the best and most common material used for tables. Some varieties of wood have excellent durability to keep for a long period of time and are more sturdy than the other materials. It gives off classic and suitable for many designs depending on the finishing. That's why wood material can go for many styles. There are 2 types of wood, hardwood and softwood while hardwood has more durability than softwood. Wood's material that is usually used by acacia-wood.com for dining tables is Acacia and Mindi wood which is categorized as hardwood. You can also have a high end wood's material for your dining table like White Oak. When it comes to maintenance you only need to take care of it as simple as regularly dusting.
Metal as dining table material exude industrial and modern touch to the room. This material shows braveness and elegant feel at the same time. Easy to maintain, no need for extra care. The deficiency from this material is absorbing heat. Metal dining tables are also not suitable for all kinds of floors because sometimes metal furniture has sharp points at their base that could damage your floor.
Marble is the best when you are looking for a luxurious feel for your room. Marbles have many colors and patterns for you to choose to match your style. A marble table is also one of the environmentally friendly materials. The cons from having a marble dining table require careful cleaning because it easily scratches. This material is also sensitive to heat, cold and sticky substances.
Glass material for the dining table offers a more open look for darker rooms. Glass material nowadays is made with tempered safety glass. But still, you need extra care for the glass dining table because it tends to reveal dust and fingerprints.
There are several types of dining table you can pick, it came in different types based on the legs of the table, here're some type of table base that give impact to the whole style of the dining table: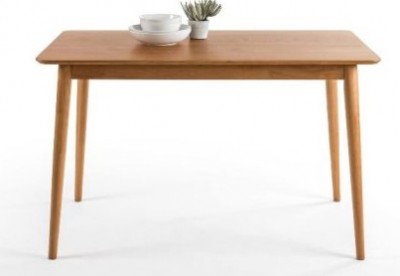 Source: epicurious.com
Four Legs Dining table with four legs is the most common base style for a table. Simple and straightforward, also steady because a four legs table supporting every side of the table. This base usually gets along with the modern style table.
Source: wayfair.com
Trestle
This kind of base for the table supported the top of the table with trestle, usually strengthened by a long stretcher. It's like a bridge connecting each side and supporting the top of the table. Trestle as base for dining table mainly can be found in modern dining table style or traditional style depending on the material used for the table.
Source: boconcept.com
Pedestal
Dining table with a pedestal base can be described where the leg of the table stands on the center to support the whole table. Pedestal dining table suited for a small square or round table. This type of table is fitted for a smaller space.
Source: castlery.com
Double Pedestal
This base table type used to support columns on each end, suited for oval or rectangle tables. Double pedestal allows plenty of legroom for many people because there's an empty area in the middle below the table.
Source: mortisetenon.com
X-Base
X-Base dining tables mostly can be found in farmhouse table style. The X-shape with symmetrical lines is the vocal point on the x-base dining table. The X-Base dining table sometimes makes a unique impression with the details of the X-shape.
You can get the best quality dining table from acacia-wood.com with a worthy price around $500-$1500 only. Acacia-wood.com only produces furniture using selected wood material and those prices equivalent with the product's quality.
3. Measurement Guide
Now we arrive at the crucial part of choosing a dining table which is to find the right size of dining table for your room. A dining table has three dimensions for the measurement, width, depth and height. How many chairs can fit will depend on the width of the dining table. The ideal size to consider accommodation for the chairs would be 22 to 24 inches space per chair. This helps you to avoid elbow bumping with other people. While talking about the chairs, it is ideal to have a gap around 10 inches between the seat and the top of the table. So the perfect height for a dining table is around 30 inches. You should also consider the space around your dining table to avoid your dining room feeling crowded. The recommended space between your dining table and the walls of your dining room is 42 to 48 inches, so you can move comfortably behind the dining table. You can find the measurement for the specific shape of the dining table at section two in this article, scroll up a little folks! Here in acacia-wood.com, you can customize your dining table based on the dimension or style of the room. So it's easier for you to have the perfect match for your dining room.
4. What Dining Table Trends in this Modern Era?
Source: L. Ercolani, homesandgardens.com
For this present time, the trends for dining tables are bold and colorful. It creates a joyful and unique personality for your dining room and gives a positive spirit for your dining experience. Wood stain is the perfect option to go bold but not-so-brave-enough-to-be-extra kind of taste. Wood stain dining table can put a spell on you with its warm and calming effect. If you are ready to be extra then pick a bold color and combine it with neutral material. The versatility this kind of dining table gives is chef kiss, like it'll never go wrong with any room design. Good thing that you find acacia-wood.com not only to guide you but also create your own vision of dining tables. All can be personalized from the size, style, color, and all based on your taste or need.
5. What Dining Table Do You Need?
Do you need a dining table that can transform when you have a special occasion? Or do you need a custom made dining table for outdoor use that can handle any weather? These questions will be the final decision maker before you decide to buy yours.
If you need a dining table that could help you give extra space for gatherings then the adjustable or extendable dining table is the perfect option. Not only the function but the extendable or adjustable dining table shows the futuristic side of the dining table. Extendable dining table should be on the top of your list if you love versatility for dining arrangements.
Adjustable or extendable dining table can be used daily but at the same time ready-to-go the moment you need to accommodate more people in your dining room. The function of this table not only helps you to accommodate lots of people but also gives extra space for you to put your food. Especially if you and your family, partner or friends are big eaters who love to eat a variety of food in one go.
Another consideration you should put before deciding is whether this dining table is going to be used outdoors or indoors. When you need a dining table for outdoor use then wood material with a bench would be a great choice. Dining table with four legs or trestle is the most common design for outdoors.
Overall, the best out of the best would be wood dining tables based on the popularity. The fame of solid wood dining tables does not arise without a reason, it's because of the durability and the easy maintenance of solid wood dining tables when they get damaged. Also, the classic feel of a wood dining table and the beauty it brings out would easily give character to your dining room.
The tour finishes here and you are ready to pick the right dining table that is suitable for you. Remember these quotes:
"Life isn't perfect, but your home can be."