Before getting to know more about coffee tables, here's a must-tell background story about a coffee table which not created on purpose. Rather, a coffee table was created accidentally because of the realization of one's needs for an interior statement. The coffee table was invented by F. Stuart Foote in the early 1900s when he was helping his wife prepare for a party. He wanted to lower an existing dining table to make a centerpiece from where coffee would be served. This background story shows the need for a coffee table in your specific area as a center point which also can be convenient at the same time.
Here are some facts about the coffee table you need to know to help you choose one.
Seb Coffee Table made by Acacia-wood.com from Castlery.com
1. Identify your Use Cases
The sole purpose of the coffee table itself would be to complement and give an interior statement to your place, particularly when it comes to small-space living, like an apartment. A coffee table will be the most essential furniture that could help you save lots of space and make your room stand out. Worthwhile enough to be on your must-have furniture list, mainly for the living room.
Coffee tables sometimes get overlooked and considered as not crucial as other furniture. But, more than just display-purpose goods, a coffee table is the workhorse in the living room or another area where you put it. It holds your drinks, remote control, books, plants, and even your favorite takeaway food. Most importantly, a coffee table is easier to move around for redecorating. You can have yours and already get a good quality coffee table even with a budget around $200.
Another fun use you can gain from a coffee table is to host a game night. Inviting guests to your home sometimes puts pressure on you because you lack fun ideas to make them comfortable enough while staying at your house. So, some fun games wouldn't hurt anyone. The perfect type of coffee table will help you and your guest get cozy while playing some games on top of it. There are lots of games you can play to increase the fun, card games, monopoly, or maybe a Jenga game. You can avoid awkward situations and get closer with your guest where the coffee table provides a comfortable setting. Don't forget to have some floor cushions around the table because game night is not for a short period of time. You surely don't want your guest to feel sore or numb in their butt and go home in pain, do you?
You also can use your coffee table to host a Japanese-style sushi party while seated on the floor. The best way to entertain guests is through food, and you can never go wrong with some sushi. The beauty of a sushi party is how the sushi is served, not only what kind of sushi will be present. Usually, sushi is served on square plates where you can arrange your sushi beautifully in order. Remember to provide chopsticks, the only proper utensils to use when eating sushi. It's pleasant to share or learn new cultures with your guests. Now you have the vision of what your coffee table would be used for when you have one.
2. What to Consider Before Buying?
Source: Edetaria.com
A coffee table is made in different sizes to match your needs. More than that, the size of the coffee table should bring comfort to you. There are small, medium, and large, but mostly the size should be the ideal relationship between your coffee table and sofa. The common size would be 39,4x19,7 inches with a standard height of around 16 to 18 inches which can be categorized as medium size, enough to function and not require a lot of space.
When it comes to choosing a coffee table, the perfect size will play the biggest factor of comfiness it could bring to you. So it's better to put more effort and measure your sofa or any chair that would pair to the coffee table. Some me-time is more than what you need, the welcoming feel and peace it brings out make you want to stop the time. The right coffee table will help you achieve a day like that. Or the other circumstances you might cross paths with a wrong size coffee table is you might cry later when you can't rest your feet comfortably while watching some Netflix, when it's the only thing you need after a long tiring day.
The common shapes of a coffee table would be rectangle, square, round, and oval. When you have a regular sofa then it will be easier to pick a coffee table, because any shape would be fine. But with so many shapes of coffee table, it's hard to choose one, so we advise you to get a rectangle shaped coffee table. Not only because it's popular but also because of the efficiency of saving space in your room. Again, everyone has different preferences. So here are some coffee tables to inspire you, now imagine how your room would be when you have these coffee tables.
Stratford Coffee Table made by Acacia-wood.com from Uttermost.com
Rectangular Coffee Tables
The favorite and the best one should be put on the first list. Rectangle coffee table effortlessly fits and matches your furniture. It's easier to arrange too, since rectangle coffee tables compliment each side of the seating area. As long as you got the right size then you need not worry. It really goes well in a smaller room.
Source: Wayfair.com
Square Coffee Tables
Square coffee table is a smaller version of a rectangle coffee table. Beautifully crafted to give extra space but it can't cover every side that should be covered around the area of your sofa. Best choice for a small space without any sofa, only cushions.
Source: Wayfair.com
Round Coffee Tables
A simple round coffee table is perfect but can also be awkward when you don't position it right with your sofa. It saves a lot of space just like rectangular coffee tables but it's hard to find one that matches exactly with your sofa or chair. When online shopping for round coffee tables, don't forget to pray to get a vision of the coffee table that matches without giving off an awkward vibe that might irritate you later on.
Source: Wayfair.com
Oval Coffee Tables
Oval coffee tables have the same characteristics as round coffee tables, just slightly different in size and shape. The best quality of a round or oval coffee table is it can prevent any incident of bumping into hard or sharp edges.
The color can be anything you want to match your place. It could be white, black, brown, gray, beige or any color you desire can be customized. When it comes to color you either want to go bold and make your coffee table stand out, be the star of the room, or you can pick a color that goes well with your sofa which is usually an inseparable partner to the coffee table. Or you can decide the color based on the bigger picture which is your living room theme.
A common material for a coffee table is usually made from glass, marble, steel, plastic, and wood. But, you should consider the safest material especially when you have kids around. The best material and also the favorite of it all is made from wood because it can fit into most styles. Though different finishes will cause a different approach of style, it brings out the diversity which is one of the best qualities of wood material. That's why Acacia Woods only provides and produces coffee tables from the finest wood that could bring out the life of the room. Hard to find another material that could beat this variant of wood which included Acacia wood, Mindi or Melia Azedarach wood, Mahogany wood, Mango wood, White oak, and Teak.
Yukon Coffee Table made from Mindi Wood by Acacia-wood.com
Glass Table from Wayfair.com
Marble Table from Livingetc.com
One can have its own unique taste or style so we're not here to judge but to show you different kinds of coffee table styles that may suit your taste and match your interior. Many styles with different kinds of uniqueness or era makes it hard to differentiate. Your pinterest board shows your dream interior but you couldn't name what to call it. Here is guidance for you, so you are not totally clueless about what you want to go-for-it item.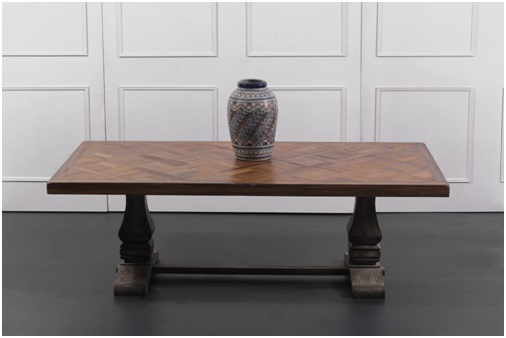 Throne Recta Table made by Acacia-wood.com
Traditional
Traditional styles for furniture are from the Victorian era, specifically made of rich dark wood, luxurious fabric and more complex design. It shows elegance and brings out distinctive characteristics to your home interior in a lavish manner. Classic and timeless beauty which easily in sync to your room whole look.
Contemporary
Contemporary styles can be classified as any trendy or popular styles "now". This kind of style always evolving over time to keep up with what can be categorized as "in" or "now" for specific period. The contemporary styles mostly blend with minimalist look. Anything that happening now can be included in this category.
Modern
The characteristic of modern styles are natural materials with clean lines and shapes. The difference between modern and contemporary is contemporary did not have certain period of time and always evolving, while modern styles relates to architectural design from 1900s and 1950s era. Modern styles inspired by the rise and dominance of industry, people call it industrial look.
When it comes to choosing the right coffee table, you might also want to consider checking the steadiness. To provide the best and most steady coffee table there's this thing called an adjustable leveler in every piece of furniture we produce. So you don't need to worry about your coffee table coming out unstable, which surely will annoy you.
3. Can it Accommodate your Functional Needs?
When it comes to its function, a coffee table can help you save extra space by providing extra storage. By any means, it presents a much more practical approach to real-life design. That's why we produce a coffee table with a shelf or trunk to help accommodate your things. Whatever you prefer based on your needs.
A beautiful shelf-less coffee table usually focuses more on the design not the functionality it gives, but it still can be useful enough for you to sort out things on top of it. This type of coffee table actually makes it seem simple and not-too-much-going-on kind of vibe.
When you have a lot of things going on in your living room, then you need this kind of coffee table. A coffee table with extra storage where you can organize your things, such as magazines, writing stationary, plants, remote control, vintage collection, anything you desire. These kinds of coffee tables can be a wonderful extra display space too. You can set up things in the most great and stylish way. it's like killing two birds with one stone, your living room would look pretty and tidy at the same time.
Trunk coffee tables are actually needed if you want things to be packed in one significant place, also lessen the undesirable object in your room so you can have more space. It's definitely hard to breathe in a cramped room and a trunk coffee table can help you with that. You can throw anything inside it and it is easier for you to find things since you packed it in one place, the trunk coffee table.
4. Reason to have One?
After you sucked all the information in your head, here's to summarize it all on why you should have one coffee table in your home:
Coffee table can be used as furniture that gives a standpoint for your living room or any area you place it. It can help you upgrade the decor in your living room for display purposes, organize magazines on top of it, plants, or maybe decorate it with some wine to make it look elegant and classy. Not only can coffee tables be so useful, but also become interior statements to show your standpoint of taste on the interior side.
As stated before, a coffee table is the perfect furniture to have when you live in a small space such as apartement. Not only to make the interior to be pretty, some coffee tables are designated to help you save extra space so it doesn't feel cramped even though you have a small living room.
Some types of coffee table provide extra storage to help you organize your things and make it compact. Super helpful and useful, yet beautiful enough to be the star of the room.
Coffee table can be your most comfortable working partner. Especially when you have one that is easier to move everywhere. The ideal coffee table size depends on your needs, can be a laptop desk or your go-to spot for studying.
Like said before, a coffee table is easier to move around depending on the material you have but usually it can be moved pretty easily remembering the size of it that sould never be bigger than your sofa. So you can redecorating it yourself or make use of your coffee table in an area other than your living room where the coffee table should be, normally.