5 Small Patio Furniture Sets for You
You may have a way to increase your space in your small living room or your small dining room. But how about your small outdoor space ? For you who live in the city, having a small backyard will make you wonder what kind of furniture should be placed. Or if you live in an apartment and a small balcony, you might have a hard time figuring out how to place your outdoor furnitures.
You can save your outdoor space with an affordable price so it looks more spacious with a cheaper price. One of the solution is to put a small patio that matches the theme or your personal liking. Giving a small outdoor furniture is the easiest small outdoor space solutions.
Types of outdoor spaces are garden, patio, porch, balcony, and deck. But, in this article we are going to talk about how to arrange small patio. A lot of people uses the same type of furniture for each type of outdoor spaces, but the specs of furniture needed is different. The type of ground surface, the amount of sunlight and the functions of the space made us treats furniture and each spaces differently. We as a woodworking company make sure that each our product get the best quality for each space.
The Difference between Porch, Balcony, Patio and Deck
Before we talk about small patio furnitures, do you know the difference between patio, porch, deck, and balcony? We are here to explain the differences briefly. So you'll know the differences and so that you'll know which type of furniture suits best in your outdoor space.
Patio is a paved outdoor area which is located exactly beside your house. Patio is also usually called as an inner courtyard. The ground surface of patio is usually made out of paving, concrete, stone, or bricks. So, the ground surface is not as flat as porches, balconies, and decks. Porch is a shelter and its surface is a little higher than its surroundings. It is usually placed in the back or in front of the house. Porch flooring is usually the same as the living room's floor. Because patio is also covered with the house's roof, indoor flooring can be used as patio flooring. Sometimes, patio flooring is made out of a different material than the indoor space which is made out of wood.
Balcony is an addition of buildings that is usually sticking out and sticks to the wall of a building. It is usually above the ground floor dan it is not enclosed.
A deck is a flat roofless platform adjoining a house and the flooring is usually made out of wood. It is mostly used for a social event like barbeque or a dining place outdoor.
What is Small Patio Furniture?
Now that you know the difference, we will sort out which furniture is suitable for a small space patio. Because patio is usually used for a relaxing chat, you will only need a few chairs. 2 patio chair and a coffee table is comfortable enough to have a small conversation with your guests. You can also turn it into a patio dining set for two since there is only a few space. If your patio is too hot on a sunny day, you can add an umbrella to cope with the sunlight.
There is no need to add a lot of furnitures such benches or dining table in your patio. A table and two chairs is enough to make your patio comfortable and looks spacious. We recommend you to choose a foldable chair to save space and so you can use it to do other outdoor activities like yoga or morning workout.
You won't need a huge table too. Just a spacious end table to put a cup of coffee and your favorite book to read. Patio uses paving, concrete, stone, and bricks so it is better to use a table with 4 legs and avoid using tables that only has one le or is unstable.
Another advantage to have a small patio furnitures is that you can also use it in your small porch, balcony, or indoor space. It is because patio furnitures has a small size and it is versatile, it is comfortable enough to put in any ground surface and easy to move. A few of our foldable chair also fits in your car trunk. You can bring it on a vacation or camping.
Perfect Small Patio Furniture Sets for You!
As a furniture company, we are able to make different types of outdoor collection, Wether it is customized or a famous furniture designer. Here are a few of our collection that will make your patio more comfortable and stunning.
1. Fio Collection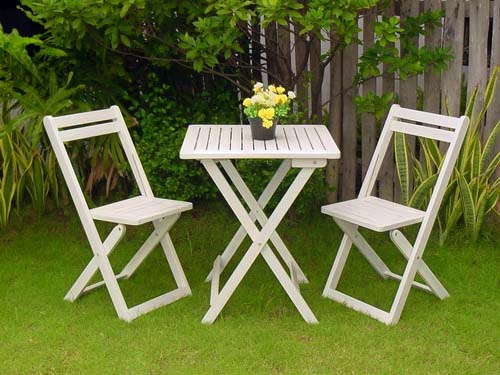 Fio has a simple design and a perfect size to put in a small patio. Not only you can put it in your patio to have a chat with your loved ones, you can also bring it anywhere. Fio chair is a foldable chair so it is possible to bring this set on a vacation while camping or to bring it to the beach.
2. Visto Collection
Visto is a small patio set that isn't less interesting than fio. Both are foldable but visto has more comfort. With a back rest that is stronger and curved according to our back shape, it adds a little bit more comfort when you sit on it. Visto also has two different table shapes which is a square table and a round table. You can put it in a small porch to greet guests before going straight into your house.
3. Adirondack Chair + Stool
Adirondack chair is one of the most favourable chair collection. This small patio furniture has a stylish design and is very suitable for a long term relaxing and enjoying outdoors. Adirondack is also eqquiped with a stool to rest your legs. It is guaranteed that you'll love this chair. A tall back rest is also there to rest not just your back but your head too. A large arm rest is also suitable to use to put your beverage or snacks. Everything is in this adirondack chair but you still don't need that much space to put this adirondack chair!
4. Mathetic Chair
Mathetic chair has a back rest that is not too high. But the natural feel and the colour of this chair and the simple design will surely astound you. Mathetic chair is more suitable to use while you're having a conversation with a friend or your colleague in an outdoor space. It is better and more comfortable if you add a cushion to make the conversation last longer and more relaxing. And of course, you will need a mathetic table to go with the patio set and make it perfect.
5. Maldives
Maldive is a patio dining set that is also a small patio furniture and a big space patio furniture as well. That is because maldive table can be extended or you can size it to your liking. You can use it for 2 person or more depending on your event. Maldive is suitable to use for a family gathering event outdoor or a garden party.
See other outdoor collections in our Outdoor Furniture Gallery